Looker
As a Full Service Data Agency, i-spark is one of the Dutch Looker Consulting Partners. With Looker's data platform you can create a single source of truth, enabling the right roles within your organization having access to uniform data to make better decisions with less risk.
What is Looker?
Looker is a Business Intelligence and Data Analytics platform that allows you to easily analyze, visualize and share data within your organization. It is a self-service Business Intelligence solution in which Data Analysts prepare large amounts of data that can be drag & dropped by the end users in order to obtain useful insights.
Looker's mission is to get everyone within the organization curious and enthusiastic, to look further and to keep asking questions. More than 2,000 leading and innovative companies such as Sony, Amazon and IBM rely on Looker to provide their employees with insight into their data.
Why Looker?
In Looker, Data Analysts – often in collaboration with Data Engineers – create a regulated data layer that connects to any (cloud) database, including Google BigQuery, Amazon Redshift and SQL Server. Within this data layer you can easily change and align definitions, for example by using the same currency or time zone everywhere. With this you create a single source of truth. When everyone looks at the same numbers and the same truth, there will be more consensus and everyone will have the right information to make better decisions.
Looker is part of the Google Cloud Platform family, but by no means exclusive(!). You can read more about this multi cloud approach at their website.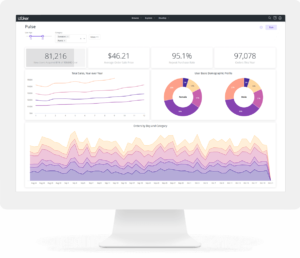 What can I do with Looker?
Many use cases can be answered with Looker, such as:
eCommerce: create a 360-degree customer view by combining various data sources.
Sports & Leisure: get a complete picture of your fans by combining data from ticket and merchandise sales.
Marketing: increase the ROAS of advertisements by optimizing based on segment data from Looker.
Professional Services: gain accurate insight into the billable of consultants across various projects.
Looker Consulting Partner
i-spark is a Looker Consulting Partner. We dare to say that we are pretty skilled in Looker. Our Data Analysts and Engineers help companies and Digital Agencies worldwide with the implementation of tailor-made Looker dashboards. So do you want to get everyone in your organization curious and enthusiastic to get started with data with the help of Looker? To look beyond and to keep asking questions? Or do you already have Looker and are you unable to find a solution and do you want help? Don't hesitate to contact us!
Contact us
All product names, images, videos, and logos are property of their respective owners.
contact us