The first day of my first real job. What was in store for me? I didn't know anyway. But the night before, when strict measures were taken to prevent spreading of the Coronavirus, I didn't know at all. It turned out to become a week I didn't see coming at all.
Monday morning, stress from parking my car I certainly didn't have. Upon arrival at the office of i-spark I found an empty parking lot. I almost start to doubt if I am at the right address. At the door I am greeted by Tamara with a hand wave from an appropriate distance, and once inside I find out that part of the office has made way for a primary school. Including whiteboard with timetable. An interesting start of my first day at work.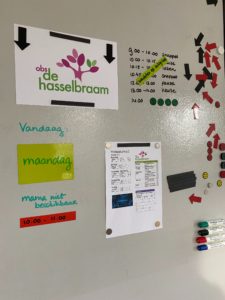 After my new laptop has been properly disinfected, we start exploring the systems. Of course, this is done at one and a half meter from each other, which makes it a bit unclear to point out specific details on the screen. After this, a surprise awaits me. A welcome cake for around 16 people! However… because everyone works from home, there are only three people in the office. A small piece of luck for my roommates, because the rest of the cake goes home with me.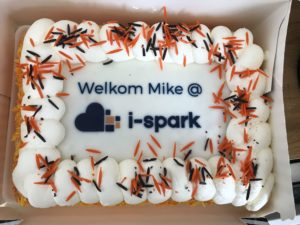 Around noon I know the most important things and it is time to work at home just like the rest of the world. It turns out that this is a bit awkward in your first week. Introductions with new colleagues via your laptop and audio that doesn't always work, it ensures that getting to know each other sometimes consists of waving at each other. Quite the uncomfortable experience. Luckily I was able to start the rest of the day at my own pace with courses from well-known tools like Klipfolio and Google Analytics. This allows me to quickly, with some support, fix some small problems in dashboards and verify the underlying data.
On Wednesday morning I find out that we have set up a new two-day meeting. This is to maintain the feeling of cohesion and to check how everyone is doing. A good idea, but there is a new program to go with it. Five minutes before the meeting I think I'm ready, and ten minutes later there's still no one… Weird. Then I get a message asking where I am. I was waiting for the meeting, wasn't I? It was on my screen… Oops. Mistake. I had clicked the invitation for the afternoon. The same meeting which I also forgot about by noon, when I was working enthusiastically on my first real tasks.
The rest of the week goes relatively smoothly, as far as that is possible while working from home. Despite the crazy course of this week I immediately feel very welcome at i-spark. My questions are answered quickly, and when I can't answer them via text, there is always someone I can call. I am really looking forward to working at the office with my colleagues soon.
Before I close my laptop and finish my first week, I would like to say something to everyone. Think about yourself and each other in these difficult times. Only by working together we can get through this situation as well as possible.
Mike